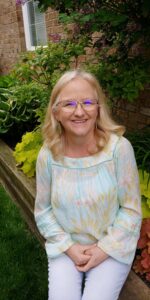 Robin Pannell
Licensed Mental Health Counselor (LMHC)
Life is a beautiful journey.  However, our journeys often include interruptions because of life experiences such as depression, anxiety, self-esteem issues, trauma, loss, divorce, relationship issues, parenting issues, and issues with aging, to name a few.  These experiences can negatively impact our thoughts, feelings, and behavior and our overall quality of life.   It is important to know that your life does not have to remain negatively impacted by what has happened to you.  Therapy can help you identify, understand, and process through what is preventing you from living your best life.  It can help you feel safe, calm, and empowered.  Two of my favorite quotes speak to my philosophy: "Life is not about waiting for the storm to pass; it's about learning to dance in the rain," and, "You can't go over it, you can't go under it, you can't go around it; you have to go through it."
I am a Licensed Clinical Social Worker with 24 years of experience.  I have worked in a Court setting, a community mental health care setting, an outpatient therapy setting, and in private practice.  I am currently working with people from age 19 years old or older in individual therapy either in office or in telehealth sessions.
Issues I have experience working with include:  Anxiety, Depression, Divorce, Grief, Parenting Issues, Behavioral Issues, Relationship Issues, Co-Dependency, Self-Esteem, Anger, Chronic Illness/Pain, Sleep Disturbances, Motivation Issues, as well as trauma.
Modalities used are evidenced-based, culturally informed, trauma informed, strength-based, client-centered, and are utilized with a nonjudgmental and collaborative style, along with ongoing positive unconditional regard.  Specialties/Modalities used include but are not limited to:  Brainspotting (trauma work), Internal Family Systems, Motivational Interviewing, Cognitive Behavioral Therapy, Dialectical Behavioral Therapy, Mindfulness, Coping Skills, Relaxation Skills.
I commend you on taking the first step to a better tomorrow and a healthier you. The beginning can often be the scariest part. However, your journey is continuous, and I look forward to being a part of the next chapter that you write. Please feel free to email or call for more information. I look forward to hearing from you!
Whether you simply want to explore new possibilities or you are desperate for relief, we look forward to working with you to achieve your goals.
While we can't change difficult situations of the past, we can work together to better understand and resolve challenges in your life.