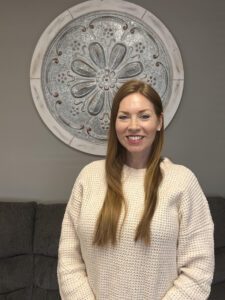 Brooke Franzman
Licensed Mental Health Counselor (LMHC)
As a Licensed Clinical Social Worker, I am passionate about providing a nonjudgmental and safe space for all individuals. I have compassion for people going through life's challenges and transitions and I feel privileged to work with those who are seeking support. Through a strengths-based, person centered approach, I value the importance of building a relationship with clients and collaborating together in order to establish and attain the desired goals
I commend you on taking the first step to a better tomorrow and a healthier you. The beginning can often be the scariest part. However, your journey is continuous, and I look forward to being a part of the next chapter that you write. Please feel free to email or call for more information. I look forward to hearing from you!
Whether you simply want to explore new possibilities or you are desperate for relief, we look forward to working with you to achieve your goals.
While we can't change difficult situations of the past, we can work together to better understand and resolve challenges in your life.